Chitrita Banerji combines cultural insight, personal anecdote and mouth-watering recipes. The book takes the reader on a journey that spans her personal growth from girlhood to womanhood. It is at once memoir, food guide, and cultural history.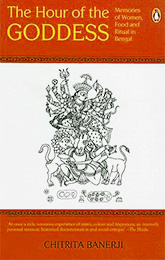 The Hour of the Goddess
Penguin
"A documentation of the rich, complex, multifaceted world of Bengali cuisine, which is at once sensuous, scientific, artistic, and esoteric."
— The Statesman
"At once a rich and sensuous experience of tastes, colour and fragrances: an intensely personal memoir, historical documentation and social critique."
— The Hindu
---
Feeding the Gods

Seagull Books

An abridged edition of The Hour of the Goddess.